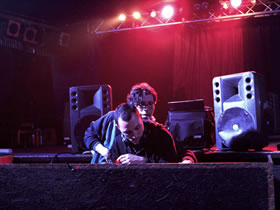 MEZE
Nato dalla commistione fra gli stili londinesi e la tradizione musicale africana, il sound di Meze è in giro da un pezzo al fianco di artisti di calibro, sempre sotto diversi pseudonimi, e come membro attivo del collettivo inglese Bradford Bahamas.

Crepitii, ritmi distorti, foot-working music, definiscono il suono di Meze, sempre alla ricerca di nuovi strumenti per generare nuovi rumori.
Un vero sperimentatore con un' attitudine specifica per il ritmo. Un' entità oscura persa in un eterno viaggio.
Gripping, rolling, dread sounds of breathtaking humidity.
Orree
Incentrati sulla interrelazione tra dub, techno, garage e sulla bass music in generale, i sets di Orree, sempre su vinile, sono in costante evoluzione con nuovi approcci stilistici e freschissime uscite. Spingendo sempre la musica che compone oltre il limite di ciò che gli è noto, Orree è rivolto verso un suono profondo, minimalista, ricco di trame oscure e mentali, ma allo stesso tempo con lo swing nel basso, un po' di follia nei campioni vocali e le drums che bussano alla porta del cuore.
Meze (eng)
Meze was born between London and North Africa. His sound is been around for long time now, always with different pseudo-names. Has worked as active part of the legendary collective Bradfod Bahamas based in London.
Crackling of sounds, distorted beats, foot-working music, this is how we can define his sound. Always researching possible tools for producing sounds, Meze is a truly experimentalist with a rhythm attitude. Inspired by the ghost of traditional Africans rhythms, Meze is an obscure identity in constant travel. Gripping, rolling, dread sounds of breathtaking humidity.
MEZE
http://deadmeze.tumblr.com/
ORREE
http://soundcloud.com/orree_man
LOAD PROJECT
http://www.loadproject.co.uk/
STIRPE999
http://stirpe999.blogspot.com/