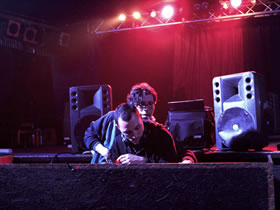 Meze
Meze was born between London and North Africa. His sound is been around for long time now, always with different pseudo-names. Has worked as active part of the legendary collective Bradfod Bahamas based in London.

Crackling of sounds, distorted beats, foot-working music, this is how we can define his sound. Always researching possible tools for producing sounds, Meze is a truly experimentalist with a rhythm attitude. Inspired by the ghost of traditional Africans rhythms, Meze is an obscure identity in constant travel. Gripping, rolling, dread sounds of breathtaking humidity.
Orree
Focused on the interplay between dub, techno, electronica, garage and more in general bass music, his sets are constantly evolving with new technical approach, and fresh vinyls which you've never heard before.
Pushed one step ahead in the unknow, Orree's music is deep, minimalist, full of super swinging bass, compulsive knocking drums, mad voice samples and obscure mental textures.
MEZE
http://deadmeze.tumblr.com/
ORREE
http://soundcloud.com/orree_man
LOAD PROJECT
http://www.loadproject.co.uk/
STIRPE999
http://stirpe999.blogspot.com/