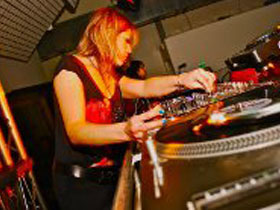 Soundtherapy is involved in the music industry for more than ten years now where she starts countless projects such as: Labels, events and festivals, record shops and distribution, education and dj school. Her obsession is playing records and that obsession follows her all alongs these last years. She gets dj-set shows for all around her town Rome, for Italy and Europe.

Her versatile nature is at the base of permanent changes, those mutations characterized her style and reveals her talent both for live show on stage and for organizing behind the stage. Her debut as a dj is on 2000 and she is resident for more than hundreds of gigs promoted by her label Urban Pressure until the 2008. She play along with international and renownedi international artists such as Adam F, Pendulum, Andy C, Subfocus, Ed Rush, Friction, Noisia and Black sun empire. After 2008 her sound goes slow but it still manly influenced by british and french touch such as fidget, electro, uk funky, 2step and dubstep. She spin both records and cds having a physical approach to the desk and her sound research it focuses on emotional sounds able to sweep the crowd to the dance floor with warm energy.
Daily she works since 2009 for Remix the most recognized records shop in Rome where she do both consultant and developing her project of school of Dj. Her permanent research for new sound experiment found in Remix the right playground. Here she found and appreciate sounds completely diverse from the ones she is used to. Sounds that mainly come from Germany. At the same time she works for Elettronica Romana, one of the most prolific techno label in Rome. Now her sound is more clear and mature. From deep sound she easly come to techno passing from techouse always keep the dance floor burning!
http://www.facebook.com/pages/TheSoundtherapy/296679987019164
http://soundcloud.com/thesoundtherapy
http://www.facebook.com/pages/TheSoundtherapy/296679987019164