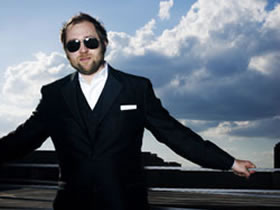 Bending boundaries and ignoring the status quo – where would the electronic music scene be today without Lee Coombs? For over a decade this British producer has been at the forefront of it all; releasing groundbreaking mix CDs, remixing the world's most acclaimed artists and knocking out dancefloor destroying productions that are considered classics years after their release.

A seasoned veteran, Coombs first hit the DJ slopes in 1989, bathing himself in the acid house scene at parties around London and Cambridge. Crucial in shaping his all-encompassing approach to DJing and production, this boundary-less approach would become Coombs' trademark, mixing up breaks, house, electro, techno and acid with dexterous assurance.
In 1998 Coombs made his first massive strike on the breaks scene as the prized recruit of then 'up and coming' label Finger Lickin', with the man's acclaimed album of 2001 'Future Sound of Retro' signalling his arrival on the world stage. The album struck a chord within the dance music community, so much so that respected industry figurehead Pete Tong noted him as the 'man to watch'. An 'Essential New Tune' accolade soon followed courtesy of Tong, with Coombs' re-rub of Quivver's 'One Last Time' making dance fans weak at the knees the world over.
Such was the demand for Coombs, that luminary Paul Oakenfold was soon knocking at his door, resulting in the critically acclaimed Perfecto Breaks album of 2002. After landing the job of remixing Oakenfold's 'Time of your Life' and then further re-rubs for world class acts such as Moby, New Order, Lamb and Planet Funk, Coombs' status as one of the industry's most in-demand artists quickly developed. Even the BBC was under the Coombs spell with them flying him over to Prague in the summer of 2003 to record the theme music for the television program 'Born to Win' with the Czech Philharmonic Orchestra.
Ever the musical innovator, Lee Coombs' 2004 album release 'Breakfast of Champions' signalled a significant evolution in his sound. Collaborating with some of the most respected artists in his field – from Dylan Rhymes to Christian J, Andy Gardner (Plump DJs) and Jem Panufnik (Soul of Man), the album charted the ambitious new territory of Tech Funk, injecting the Breaks sound with butt-shaking elements of House, Electro and Techno. It was a style Coombs would make his own, alongside fellow innovators Meat Katie, Elite Force and Dylan Rhymes. Featured on the acclaimed album was the cracking single 'Shiver' (feat. Katherine Ellis) which was snapped up by classic house imprint Azuli and became one of the biggest vocal house anthems of 2005, whilst the 'Alright All-Night/Dubhead' and 'Obsessional Rhythm' singles went straight to no.1 in the DJ Mag Beats & Breaks Chart.
Departing Finger Lickin' for new pastures in 2005, Coombs' focus shifted to releasing music through his own Thrust Recordings imprint as well as Adrift and Meat Katie's Lot49 (then Whole9Yards). It was at this time that he started his 'Thrust' club nights in San Francisco, with the quarterly events becoming one of the hottest tickets in the Bay Area. He also formally joined the Lot49 team, mixing the label's compilation Lot49 Presents – Lee Coombs.When he is not in the producers chair, Coombs regularly tours all corners of the globe and is a bona-fide fan favourite throughout Europe, the USA, Australia, Asia and of course the UK. His popularity has also ensured his repeat appearance at infamous festival 'The Burning Man' in the Black Rock Desert of Nevada.Coomb's latest artist album entitled "Light and Dark." Was released in October 2009 on Lot49, Coombs views this as his most ambitious project yet with a range of tempo from 100 – 128 bpm. While still dancefloor focused, collaborations with the likes of Seasunz, Katherine Ellis, Uberzone and others help push the albums boundaries and showcase Coombs' abilities across multiple genres.2010 saw Lee move back into the T.V. music world when Absolut Vodka asked for his services with their 'Absolut Night' campaign. In 2011 they also asked Lee to write the music to their 'Absolut Blank' Campaign which includes 'behind the scenes' video soundtrack and an Electronic version of their currently worldwide showing 'Absolut Blank' T.V. ad. Lee's ability to create music that fits any kind of film or game is becoming widely known throughout the industry.
In a world that's so often governed by trends and fads, Coombs' unwavering ability to simultaneously destroy dancefloors and push musical boundaries over 20 years since he first touched a pair of turntables is a remarkable achievement in itself. There's little doubt that his impressive sonic skills will be rocking ears for many years to come.