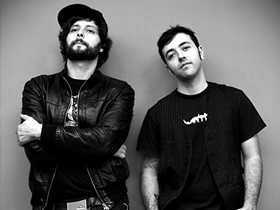 B&I define themselves as "the missing link between Techno and Electro"…They've aptly named it "Techno Nouveau".
Currently remixed the legendary Plump Dj's, a remix for Meat Katie on Lot 49, freshly finished remixing Pink Is Punk on Universal Records, two recent releases on Dim Mak including a collab with their French brothers Mustard Pimp, remixed GTRONIC on Lektroluv with numerous weeks in Beatport charts, remixed Benny Benassi (Maybb) on Kitsune and being included on a Sony BMG compilation alongside Crookers, it's no surprise that Italian duo Blatta & Inesha were slated by XLR8R magazine as " Among 6 of Italy's top party rockers." including Crookers, Bloody Beetroots, Congorock.
With an upcoming track on Dim Mak in February 2012 and a new collaboration track with the LA duo Casino Gold their bass driven Techno Electro has been blasted around the world. Whether its them headlining massive tastemaker festivals like Marsatac in France playing for 10,000 people alongside Mr. Oizo and Erol Alkan and World DJ Festival in Seoul – South Korea or at super clubs like Womb in Tokyo or top tier DJ's dropping their tracks, topping industry charts, or tuning in to hear repetitive plays on BBC radio 1 shows Kissy Sell Out and Annie Nightingale or on heavy rotation on DeeJay TV.
Having toured North America three times in the last years hitting major parties/cities like Dim Mak tuesday, Faktory in Toronto, D.C. with Steve Aoki, Chicago, San Fran, NYC Trouble & Bass and Webster Hall, Gotta Dance Dirty in Los Angeles, Takovr in Orlando, Throwed in Boston, San Diego, and essential clubs/cities on the Euro circuit like Social club Paris, Fabric London, Fuse Brussels, Magnolia Milan, B&I are poised to take their project and tour to the next level.
With Inesha's history in turntablism and hip hop and Blatta's in Rock and roll melting together to create releases on Kitsune, Mental Groove, Dim Mak, Lektroluv, Warehouse, Crux etc… have set them heavily in the techno / electro scene.
Recently the boys hailing from Sicily have turned their bass music sound into an underground music phenomenon across Europe and US after receiving a 5 star review in DJ Mag " No doubt on heavy rotation by Boys Noize…" Solidifying B&I's propensity for techno they collaborated on a track with Calvertron, which has won a spot on Lee Mortimer's new Warehouse compilation that includes tracks also by Laid Back Luke.
Splatters of sweat, chaos and anything from techno to electro to 70's Italo disco are the ingredients for their shows and reason for their constantly growing popularity and overwhelming fan base.
Electro and techno is not the only place they are known for their talents. They have been commissioned to remix top indie pop acts such as Pony Pony Run Run, Telepopmusik and Axel and the Farmers which all have enjoyed time as Hypem's #1 favorited tracks. As well as a recent team up with Italy's budding hip hop superstars Videomind. B&I created a remix that will be the bands first single to drop for the new album while Videomind dropped some rare lyrics for a B&I original. With a week of video production complete the track is set with MTV Italy to be on regular rotation.