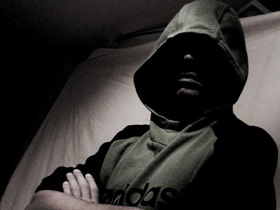 Ruggero Patrizi aka "LABAROME Techno Music Industries" is an electronic music producer and dj from Rome, italy.
He started his musical activity playing guitar in a punk rock band when he was just thirteen years old and, some time later, he started studying jazz guitar and composition.
When he bought his first synth in 1987 (Roland D20) he discovered electronic music and became keen on techno music.
Buying his first record players and vinyls he started to play as a dj and live performer in the illegal rave scene of Rome and in 1997 he released his first vinyl e.p. for the "Latitant Records" label.
In 1999 he established "Surphase Records" label with Paolo Schettini (aka Qubit – Abrugiato) and Luca Roberti.
The ambitious target was to change the electronic scene of Rome aiming to a bigger sound research.
As "Psychofunk" he realeases two idm-experimental compilations (Electronic junction – Surphase001) with artists like Leo Anibaldi, Lory D, Andrea Benedetti, Marco Passarani, Mat101 and others.
He took an eight years break from music in 2000 and re-started playing again in 2008 performing only live.
Labels:
LATITANT RECORDS, Italy (1997)
SURPHASE RECORDS, Italy (2000-2001)
CATALOGUE OF WONDERS, UK (Materia Prima compilation 2010)
STATO ELETTRICO NETLABEL, Italy (today)
BLACK SAM RECORDS, Italy (today)