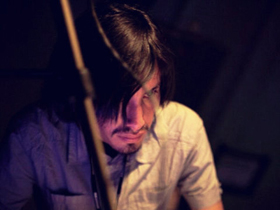 Luis Sanz / INDEFINITEVJ is a visual Artist dedicated to the visual experimentation in real-time, video editing and graphic design, specializing in live visual performances in clubs, festivals and theaters.
He draws inspiration from various artistic fields such as futurism, experimental cinema, architecture, minimalism and photography.
As a Visual Jockey, he had the opportunity to present his work in several countries.
At the sixth edition of the Mapping Festival (Geneva, Switzerland), Indefinite VJ reached the second place in the International VJ Contest. He is an active visual artist within the electronic scene in Switzerland.
Select Locations
La Friche Electro, Nantes France
Sala Razzmatazz, Barcelona Spain
Nuovo Cinema Aquila Rome, Italy
Kornhausforum, Bern Switzerland
Dampfzentrale, Bern Switzerland
Le Zoo, L'usine, Geneva Switzerland
Kulturfabrik, Lyss Switzerland
Dachstock, Reitschule, Bern Switzerland
Cinéma Spoutnik. L'usine, Genève
El Bandido Club, Moquegua, Peru
Festivals
Scopitone Festival 2011, Nantes France
Mapping Festival 2011, Geneva Switzerland
Live Performers Meeting 2011, Rome, Italy
Mapping Festival 2010, Geneva Switzerland
Awards
Second Place – International VJ Contest Mapping Festival, Geneva, Switzerland
Projects
NEBULA ( Bern, CH)
KILLCODE (Bern, CH / London, UK)
Selected Acts
Noisia (Vision / Division / Invisible / Mau5trap, Groningen Netherlands)
Icicle (Shogun Audio, London, UK)
Alix Perez ( Shogun Audio, London UK)
Housse de Racket (Kitsuné / Coop, Paris, France)
Round Table Knights (Deadfish / Made To Play, Bern Switzerland)
Kollektiv Turmstrasse (Hamburg, Germany)
Djedjotronic et Strip Steve (Boysnoize Records, Paris France)
Oliver Koletzki & Fran (Stil vor Talent, Berlin Germany)
D.I.M ((Boysnoize Records, Turbo Recordings, Berlin Germany)
Alexander Kowalski (Berlin Germany)
Format: B (Formatik Records, Kreuzberg Germany)
Adam F (Breakbeatkaos Records, Liverpool, UK)
The Koletzkis (Stil vor Talent, Berlin Germany)
Heinrichs & Hirtenfellner (Supdub Records, Berlin Germany)
Daniel Steinberg (Supdub Records, Berlin Germany)
Animal Trainer (Stil vor talent / Hive Audio, Zurich Switzerland)
Martin Eyeyer (Kling Klong Records / Session Deluxe Recordings, Stuttgart Germany)