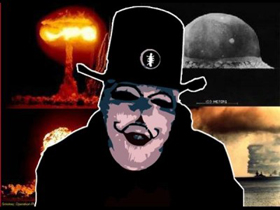 David Kontra since the late 90's, combines elements of video, audio and performance, has been characterized by the interest of human behavior their fears and instincts, in 1996 ENCEFALISIS born as a distortion outside the box, a noise of war resonance imaging and radical daily, cataleptic transgression of the emotions and the mind, the acid sound against the norms of social control and destruction, which generates 6 productions (ACTOS PAGANOS ,999, 13, ERROR, TRAGA TRAGA TRAGA! y SEX MAGIC RITUALKORE) As individual creator generates visual sound environments, these acts were exposed in differents sound art festivals and gatherings of performance by different parts of the world.
Founder of the group BINARIA, driven by the motivation to promote the art of breaking, the ideological shift that starts to happen in our society, directing a smart rebellion, His problems faced whith invisible censorship is based on imposes the average citizen to swallow the garbage that abounds on television and traditional media. Anorexia mental that will automatically and social cowardly mass not ask, don´t understand, don´t look.
ALSO Co-produced the sound project SOCIEDAD MINIMALISTA . And the collective INTENTO in Berlin, with artists from around the world, to give an overview of our socio-political point of view, concerning the tradition, technology and globalization. In which, the performance were exhibited in various spaces and festivals in Germany and Spain as well as short movies like CONTRY LIFE by Pan movies pirates. Right now presents his latest piece, SPECIAL kONTRA where he co-organized with Irreverent fest under the name of FIX in various experimental electronic music festivals. In parallel presents the realization of the audio book by Rod Films EGO PERVERTUM.